---
Indy engines still pack a 700-HP punch
Charles Murray, Design News -May 11, 2012
This year, when the Indy cars line up in the grid at the "greatest spectacle in racing," they'll be using engines with less displacement than that in a Volkswagen Golf or a Toyota Camry.
Don't worry, though. Participants in this year's race won't be circling the track at 55 mph. The 2.2-liter V-6 engine limitation set forth by the IndyCar rules committee won't stop the vehicles from generating more than 550 HP and reaching speeds in excess of 200 mph.
Learn more about the Indy 500 and Littelfuse's Speed2Design site.
"We have virtually zero latitude with the engines," Mark Johnson, general manager of
KV Racing Technology
, told Design News. "We take the engines that the suppliers provide, put them in the car, and remove them when it's time." Still, they're able to squeeze every imaginable ounce of performance out of those little race engines, enabling them to produce more horsepower than a Corvette production car engine with three times the displacement.
Indy teams do that by turbocharging their engines and spinning the crankshafts at speeds up to 12,000 rpm. The turbocharger boosts the performance by using an exhaust gas turbine to draw more air into the induction system, which, in turn, enables the engine to burn more gasoline.
This year, the IndyCar rules committee will allow three turbocharger sizes, depending on the Indy race course: large oval tracks will be permitted to boost the air induction pressure to 1.3 Bar; smaller ovals will top out 1.4; and road courses will reach 1.55. The 1.3-Bar turbocharger boosts the engine's horsepower to about 550 HP, while the 1.55-version stretches the horsepower to about 700 HP.
"For every Bar of boost over atmospheric, you're functionally doubling the displacement of the engine," said Russ O'Blenes, manager for racing powertrains at General Motors (GM). "So a 2.2-liter normally aspirated engine with an extra Bar of boost will think it's a 4.4-liter engine."
By boosting engines that already have a relatively short piston stroke, manufacturers can turn the engine's crankshaft faster, which produces more horsepower. This year's engines will operate in a range between 1,000 rpm and 12,000 rpm.
GM, which produces the Chevy engine employed by
KV Racing
, is opting this year for twin turbochargers to provide the boost for its engines. The issue of twin- or single-turbocharger design is one of the few areas where engine manufacturers—including GM, Honda, and Lotus—are allowed some leeway.
"Each engine manufacturer weighs the pros and cons of twin or single, and then they make their decisions," O'Blenes said.
"The twin weighs a little more and gets packaged on either side of the engine. The single gets packaged behind the engine. Either way, there are packaging and temperature issues that need to be considered. There's also inertia. People will sometimes run twin over single because they're smaller and spool up faster, which reduces turbo lag."
To keep tight control over the use of engines, manufacturers assign staff engineers to each Indy team. In essence, the visiting engineer is part of the engine package. When the engine arrives, the engineer comes with it.
"We're not even allowed to run the engines in our race shop without one of the Chevy engineers being present," Johnson said.
Similarly, GM assigns an engineer to
Ilmor Engineering
in England, which develops its Chevy racing engine. And Ilmor sends an engineering team to GM's facility in Plymouth, MI, where the engines are built.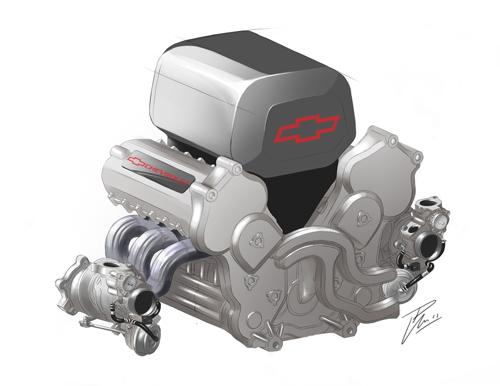 The extraordinary attention to detail on all sides is a result of decades of costly lessons, engineers say. Without tight controls, team members and manufacturers alike worry that costs will quickly veer out of control. Most recall the development efforts of the 1990s, when some engine manufacturers in pursuit of victory let costs roll up over a $1 billion over a period of several years.
"It's not like back in the days when there were few rules for engine development," Johnson said. "Back then, the costs were spiraling and everyone was wondering how we were going to bring it back under control."
Today, it's a different story. This year's Indy engines use four-valve, overhead cam, direct injection designs that are readily available in production cars. Component materials are also standard: steel crankshafts and rods, aluminum blocks and heads. For race team members, the bottom line is that victories come, not from technology per se, but from attention to detail.
"Back in the day, we were running 40 inches of boost and making over 1,000 HP with V-8 engines," Johnson said. "But those days are gone. Now, we're using a V-6 and getting 700 HP out of the engine. That's still a pretty good amount of power."
If you've always dreamed of hanging with the pit crew at Indy, your opportunity has arrived. Littelfuse Inc, a
KV Racing
sponsor, is sponsoring the
Speed2Design contest
. Winners will attend the races, visit the pits, and talk engineer-to-engineer with crew members.
The
Speed2Design
promotion is connected to four Indy Racing League series races in Indianapolis (May 27); Fort Worth, Texas (June 9); Sonoma, CA (August 26); and Fontana, CA (September 15). Littelfuse will randomly select four participants to attend each Speed2Design event. (The deadline to enter to win a trip to Indianapolis has passed, but the other spots are still up for grabs.)
Related posts: